Get a global education at the institution of your choice
Our international universities and education partners are located across the world in countries such as Australia, Canada, the USA, the UK, New Zealand, the Netherlands, Cyprus, Mauritius, Ireland, Hungary, Sweden, Finland and the United Arab Emirates.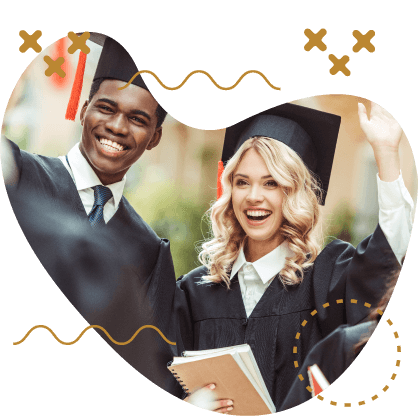 Meet the students we've helped
Thank you to the organisation for assigning someone who respects and genuinely loves working with students. Her understanding of processes and competence made it all possible.
Wow this company is the best. If you need help in schooling abroad, they helped me from beginning to end and the communication is excellent. They helped my family to fulfil our dreams of relocating and studying abroad.
Such a great communication between the agent and the student. She made sure everything was in order and that things were well organised. Whenever possible she was able to help me, explaining doubts and was very patient, especially for not being in the same country. It was 100% great communication and interaction.
What Study Abroad can do for you
1. Institution search
Browse through a catalogue of international universities and educational institutions to discover what they have to offer.
2. Career and study advice
We guide you through the various study abroad programmes and help you choose what and where to study.
3. Application and admissions support
Our access to the admissions department at our partner universities and educational institutions means that students get a quicker, more streamlined application process.
4. Visa application assistance
Once you've been accepted at an international university, we can help you secure your student visa.
5. Pre-departure assistance
We can help you organise everything from accommodation to airport pickups and orientation in your new home.
6. Immigration advice
If you'd like to make a permanent move to the country where you're studying, Sable International's immigration team has over 25 years of experience with helping our clients immigrate to the UK and Australia.
The benefits of a global education
Better employment opportunities
Whether you choose to stay abroad after your studies or return to your home country, studying abroad contributes significantly to having a more global mindset, which is highly favoured by employers.
Education at top-tier institutions
Gain access to the best institutions for your chosen field of study across the globe. You don't have to limit yourself to your home country, you can choose and apply based on your long-term goals.
A route to immigration
Some people choose to return home after studying abroad, but you can also decide to stay in your new country. Many countries have reduced immigration requirements if you have chosen to study there.
Build international connections
Studying at an international institution is a fantastic opportunity make friends across the globe, not to mention encountering new cultures, languages and experiences.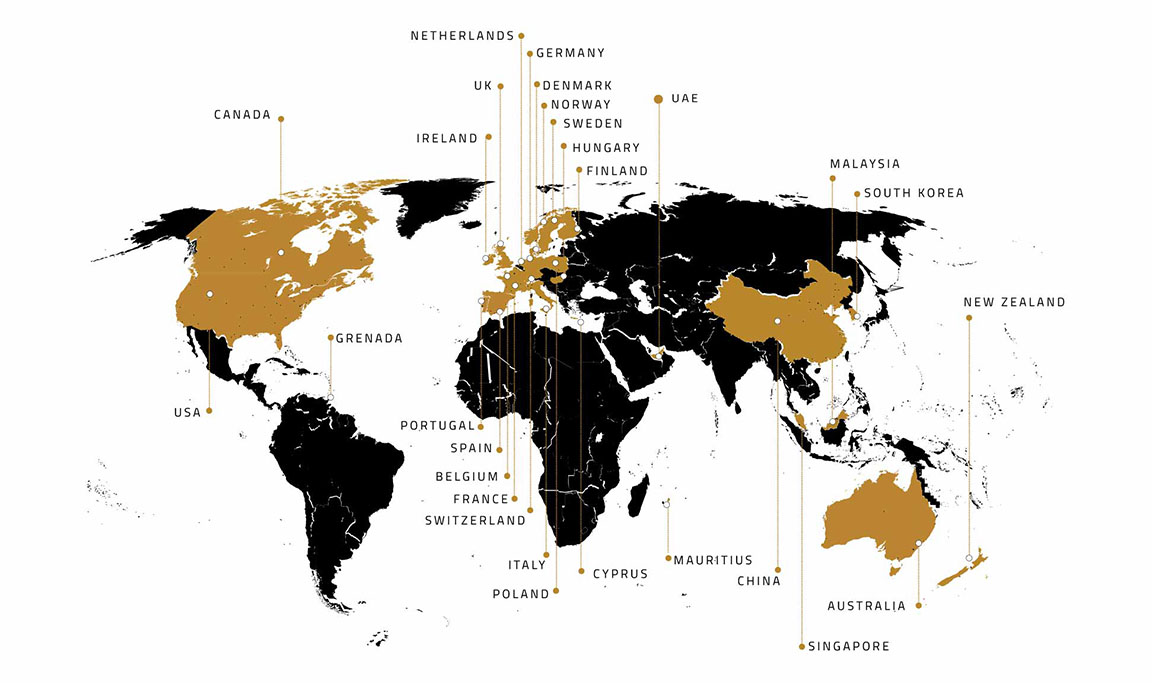 Access over 320 top institutions across 24 countries
We work with over 320 international education partners, many of whom are top international universities throughout the world, offering foundation, undergraduate and postgraduate programmes. We have direct access to the university admissions teams, making it easy for you to apply and get your enrolment letter.
Frequently asked questions about studying abroad
If you don't find the answer to your question below, please don't hesitate to get in touch with us. Our skilled study advisers are here to assist you in any way they can.
1. Can you help students from anywhere in the world?
Yes, our advisers can assist from any location. Counselling sessions are done via Skype, Zoom or a digital platform that works for you, as well as over the phone. All paperwork is received via a secure portal so advice and assistance can be offered to anyone without the need to come to our offices.
2. Do you have a special agreement with the institutions?
Yes, in most cases we will have a contract which allows us to represent the institution. This also means that the institution will have given specialised training to our study advisers and that we have direct access to the admissions teams.
3. Do I need to do a foundation/pre-university year or can I go direct to the first year?
This will depend on your grades. However, in most cases, you should be able to enter the first year if you have high grades and have studied for at least 12 years. It will also depend on your chosen country and institution so please discuss this with your study adviser.
4. How long will my visa last for?
Your visa will generally be valid for the duration of your course. However, this will depend on the type of visa you applied for. It may be possible to move to a post-study visa, depending on your course and which country you study in. Please speak to your study adviser for more details.
5. How long will my visa take once I have applied?
It will depend on the country and the type of visa you have applied for. There are also fast track visa application services for most countries. Speak to your study adviser to find out more.
6. Can you help with scholarships?
Most universities offer scholarships. However, these are normally academically based and often take the form of a fee reduction once you've been accepted. Browse our list of recently announced scholarships to see if you might qualify.
7. Can I work while I study?
It will depend on your visa and country. In most cases, you will be able to work around 20 hours per week and full time during breaks.
8. Can I get my tuition deposit back if I decide not to go to the university I applied to or I get a visa rejection?
This will depend on the institution's refund policy. In most cases you should be able to apply for a refund of your deposit if you have not yet arrived at the institution.
9. When are the intake dates?
There are two intakes for most universities, one in January/February and the other in August/September. However, some universities offer a third intake in May/June.
10. Can I transfer my university credits to another university abroad ?
Yes, you can. Requirements will depend on the university where you're applying.
11. Can I do my honour's degree overseas?
Yes, you can. It would depend on the university and whether they have an honour's programme.
12. Can I remain abroad after I've completed my studies?
Your student visa will be valid only for the duration of your studies. However, many countries have immigration programmes for recent graduates. Your study abroad adviser will be able to provide more information about possible immigration routes.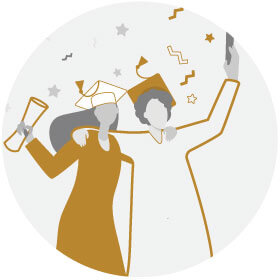 Our vision and mission
We believe in helping students explore all the options available for furthering their studies and acquiring a top-tier education.
We are proudly African and believe the best way to build local communities is through ensuring local students have access to the best education the world has to offer, so that they can bring those skills home.
We provide unbiased information to our students about our institution partners.
We value our partner institutions and see them as independent to our own mission.
We see our students and institutions as part of our team and all strive for success together.
We are disruptors in the market and do not follow trends.
Our outlook is international, our empathy is local.
We see education as the future.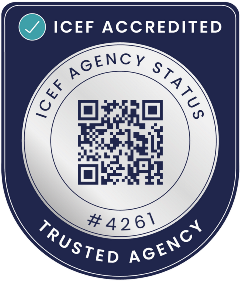 Accredited members of ICEF
As the official, direct, in-country representative for our university partners, we continually train to ensure we are up to date with the correct procedures for each country and educational institute. We're proud to be accredited members of the ICEF, and confident in the exceptional service offered by all our study advisers.
Meet the study abroad team
Brent Morris

Managing Director: Study abroad

Sean Chunga

Regional Director: Zambia

Roxanne Ross

Marketing Coordinator: Zambia

Tendai Sibindi

Marketing Coordinator: Zimbabwe and SA

Lekan Olufeyisan

Admissions Coordinator

Amy Karabus

Study Abroad Adviser

Dalene Klopper

Admissions Adviser

Elvin Kamwebaze

Administrative Assistant

Brenda Karungi

Administrator and Operations Officer

Benjamin Ajagbe Ajagbe

Admissions Adviser

Eliaichi Minja

Study Abroad Adviser

Lola Josephine

Study Abroad Adviser

Sharon Maende

Study Abroad Adviser

Valarie Odhiambo

Admissions Adviser

Natalie Mwananshiku

Study Abroad Adviser

Sipiwe Nachula

Admissions Adviser

Josephine Banda

Study Abroad Adviser and Admin Assistant

David Mbaziira

Marketing Coordinator: Uganda

Halm Murungi

Regional Director: Uganda
Brent Morris

Managing Director: Study abroad

Brent was born and raised in South Africa and then travelled to the UK as an international student, where he completed his master's degree with Anglia Ruskin University. He worked for several public universities in the UK and the US with a continuous focus on Africa. He has spent time travelling the entire continent, supporting students on their journeys to study abroad.

In 2016, he moved back to South Africa where he set up a pan-African study abroad consultancy. He joined Sable International in 2021 and now manages the Study abroad division.

When he is not travelling, you will find him in the water, surfing.

Sean Chunga

Regional Director: Zambia

Sean has a diverse and extensive background in international business, with a focus on marketing, design and product management, with 15 years of experience working with multinational corporations in Africa, Europe and Asia.

He was educated in Australia, Europe and Asia, studying International Business and Business Management at Edith Cowan University/Swinburne University of Technology Sarawak Campus and Interior Design at The Florence Design Academy.

Before joining Sable International, he led a diverse portfolio of start-ups from renewable energy to sustainable property development. He also founded StudentLink, one of the most diverse, up and coming, study abroad agencies in Zambia, which has now merged with Sable International. He brings with him five years of higher learning education experience.

Outside of work, he enjoys outdoor activities, sports, traveling and reading.

Roxanne Ross

Marketing Coordinator: Zambia

Roxanne has seven years of experience working in the medical field in Europe and Africa, and has now changed careers to specialise in social media marketing.

She has a degree from Scotland and is currently doing her master's through the University of Cape Town (UCT).

She is a health enthusiast with a background in psychology and counselling. She enjoys changing people's perceptions of health and fitness. Outside of work she enjoys baking, travelling and socialising.




Tendai Sibindi

Marketing Coordinator: Zimbabwe and SA

Tendai specialises in digital media, marketing and business development with nine years worth of experience in marketing. He has worked in Cape Town and in Harare for companies, events, sports teams and restaurants, plus created campaigns to launch, rebrand and establish brands in the market.

Tendai's strengths lie in social media management which has seen brands increase their footprint digitally, win awards for campaigns, as well as making a product the most successful product in the company's history. He has formulated and implemented marketing strategies for major corporates in Zimbabwe, brands in South Africa and start-ups in both countries.


Lekan Olufeyisan

Admissions Coordinator

Lekan Olufeyisan is a graduate of Biology from University of Abuja. He is passionate about the education industry and he has been contributing to it for many years, even before graduating from the university.

He was the official in-country representative for Curtin University, Australia and later for University of Chester, UK, while working with British Canadian International Education. He currently manages the admissions team at Sable International: Study Abroad.

Lekan is a lover of music. He is a vocalist and an instrumentalist. He loves to relax by watching movies or listening to good music. He also loves to spend time with his family.


Amy Karabus

Study Abroad Adviser

Amy grew up on the West Coast of Cape Town and then attended the South African College of Applied Psychology (SACAP). While studying a Bachelor of Social Sciences Honours (BPsych Equivalent), she developed a keen understanding of working across diverse demographics during her practical training.

Amy utilises her interpersonal training and skills as a Study Abroad Adviser. She is able to assess and guide students to the best international programmes for their education goals. In addition to this, she builds relationships with schools and tertiary institutions.

In her free time, you can find Amy enjoying the outdoors or in (under) the ocean.

Dalene Klopper

Admissions Adviser

Dalene grew up in the Southern Suburbs of Cape Town. She graduated from Stellenbosch University with Bachelor of Arts International Studies degree, as well as an Honours Degree in History. After University, Dalene spent some time in the UK before moving to Vietnam where she worked in Education for five years.

Dalene loves to experience new cultures and learn new things. She also loves animals. In her free time she enjoys reading, travelling, doing photography, eating out with friends, going SCUBA diving, and motorbike trips out of the city.


Elvin Kamwebaze

Administrative Assistant

Elvin has spent most of his life in the Kampala suburbs. However, he enjoys checking in on his ancestral home in Western Uganda every so often. He holds a bachelor's degree from Uganda Christian University Mukono and intends to pursue a master's degree as well.

Prior to joining Sable International, he worked as a customer service officer and a study abroad counsellor at Grand Studies Africa, an education consultancy, where he gained great knowledge and experience in the processes and procedures around applying to international universities.

He is a humble, enthusiastic and result-orientated person who loves to try out new things and learn new skills. In his free time he enjoys watching series and movies, playing video games, socialising and travel.

Brenda Karungi

Administrator and Operations Officer

Brenda is an innovative, strategic and forward-thinking person with a degree in Journalism and Communication from Makerere University, majoring in Public Relations, and five years of experience in the field of Communication and Public Relations.

She has excellent communication skills and strong interpersonal skills. Before she joined Sable International, she worked with agricultural cooperatives in Uganda as the Communications Officer.

At Sable International she works as an administrator, managing daily activities of the office whilst ensuring the team works effectively.

She is an outgoing person who loves traveling, reading, farming and gardening in her free time.

Benjamin Ajagbe Ajagbe

Admissions Adviser

Benjamin holds a master's degree (MTech) and has over seven years of work experience in marketing education products and services, international student recruitment, and student visa counselling.

He has also worked ha both inbound and outbound customers relationship officer with one of the most outstanding telecommunication companies in Nigeria. Prior to joining Sable International in February 2023, he also worked with Erudite Consults and UNICAF Educational Services Institute in Lagos, Nigeria.

Outside of work, he likes reading books, learning and practicing programming languages and also listening to music.

Eliaichi Minja

Study Abroad Adviser

Eliaichi is a hardworking and adaptable individual with over 11 years' experience working in various office environments, mainly in educational institutions. She is always eager to learn new skills and strives to achieve the best in all areas. She is an expert in administrative duties and dealing with complex managerial problems.

She holds a master's degree in developmental studies from Uganda Martyrs University and a bachelor's in business administration from the Open University of Tanzania. Prior to joining Sable International, she worked as a human resource coordinator at BLD Consults and as personal assistant to the Executive Director at Makerere Institute of Social Research (MISR). She also worked at Aga Khan Education Service Uganda (AKESU), Uganda Martyrs University (UMU), University of Dar es Salaam and as a volunteer.

She enjoys crocheting, listening to music and spending quality time with her family and friends.

Lola Josephine

Study Abroad Adviser

Lola holds a BSc in Telecommunication Engineering from St. Lawrence University, Uganda. She is bilingual in English and French.

Prior to joining Sable International, Lola worked as a sales representative for a VoIP company.

She is passionate about helping others succeed and enjoys spending time with family, reading and going on adventures.

Sharon Maende

Study Abroad Adviser

Sharon is the first born in a family of three. She is married with three children. Her career background is in counselling, sales and marketing.

Her role at Sable International is making sure students find the best university or college to meet their study abroad needs.

She is an optimistic extrovert who is easy to get along with. Outside of work, she loves getting involved in church activities and spending time with her family and friends.

Valarie Odhiambo

Admissions Adviser

Valarie has a background in business development, with over 10 years work experience planning, directing and implementing sales strategies. She also holds a master's in business administration from Makerere University and a postgraduate diploma in public administration from UMI.

Prior to joining Sable International, she worked at Beyond Kenya Limited and managed to build new distribution channels and partners to cover the new emerging markets like Uganda, DRC and Rwanda.

She is a driven go-getter and a people person who believes in ongoing practice, reflection and constant self improvement. Outside of work she enjoys listening to music and reading.

Natalie Mwananshiku

Study Abroad Adviser

Natalie is a customer-orientated and strategic-thinking marketing professional with over three years of experience in building startups and marketing by cultivating partnerships as well as growing profit channels.

She previously worked at Supplement World Zambia as the head of marketing for a little over three years, and has experience as a freelance digital marketing consultant, having worked with Lingua Connections – an institution that teaches German.

She is a friendly, enthusiastic and self-motivated individual with excellent multitasking skills and expertise in expanding network connections and persuasively introducing services.

Outside of work she enjoys working out and cooking for friends and family.

Sipiwe Nachula

Admissions Adviser

Sipiwe studied a bachelor of Science in Human Biology at Lusaka Apex Medical University and is also currently pursuing a Bachelor of Medicine and Bachelor of Surgery (MBChB) at Lusaka Apex Medical University and a Master of Science in Public Health at the University of Lusaka. She also holds a certificate in Product Management.

She has experience in youth involvement and advocacy in digitalisation at an international level, as she is a Youth Envoy for the International Telecommunications Union Generation Connect.

Before joining Sable International, she was leading a youth-led initiative responsible for health awareness and promotion and also working in the events sector for both corporate and non-corporate events.

She enjoys traveling, learning, exploring new places and experiencing food markets in her free time. She is an adventurous person who loves experiencing high-adrenaline activities.

Josephine Banda

Study Abroad Adviser and Admin Assistant

Josephine is working towards a degree in mass communication and public relations student at Cavendish University Zambia.

Prior to starting at Sable International, she worked for Gatbro international limited, one of Zambia's leading FMCG product distributors for three years, transitioning from in-field marketer to front desk and data entry assistant.

JShe is a social media enthusiast with vast knowledge around social media algorithms, SEO and web traffic metrics. She spends most of her time outside work reading different genres of fictional books and, occasionally, research-related material.

David Mbaziira

Marketing Coordinator: Uganda

David studied at Makerere University Business School and completed a professional course in Marketing through the UMI study centre. Before joining Sable International, he worked with Grand Studies Africa Limited.

He is skilled in communication and leadership and enjoys working as a teamplayer in a diverse and multicultural environment. He speaks three languages and is constantly expanding his knowledge.

Outside of work he enjoys participating in sports, especially volleyball and badminton, traveling, reading, making new friends, picking up new information, watching movies, helping the needy and surrounding himself with nature.

Halm Murungi

Regional Director: Uganda

Halm is an experienced business development and management professional, Founder of Grand Studies Africa (a student-centred consultancy powered by IE Abroad) and now partner and in-country director of Sable International's Uganda Study Abroad division.

He holds a bachelor's degree in business computing from the Islamic University in Uganda, with a keen focus on success, and resilience. He is a great believer in the adage "ease is a greater threat to success than hardship".

He is a husband and father of three boys. In his free time he likes to travel and finds it rejuvenates him and enables him to return to work with full force, ready to conquer.
Our latest news and articles
Get in touch
Fill in your details below and a study adviser will be in touch as soon as they are able. Provide as much detail as possible about your required level of education, choice of course and where you would like to go.
We use cookies to provide the best website experience for you. Using this website means that you agree to this. How we use cookies Close